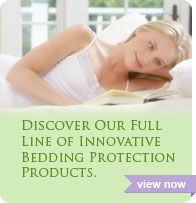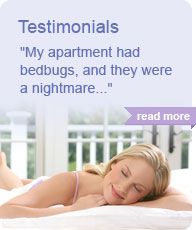 Protect-A-Bed® products are listed as a
Class 1
Medical Device with the FDA.


Protect-A-Bed® products are completely pesticide free.

TESTIMONIALS
Great Product - Does What You Need It To Do. (Allerzip Mattress Encasement)
"My apartment had bedbugs, and they were a nightmare to get rid of. I bought my mattress only 2 years ago - and I spent around 3k on it, because I wanted a top-quality, super-comfortable mattress that would last for years. So the idea that I might have to toss it really upset me.
Before having the apartment (and mattresses) treated, the exterminator told us to buy mattress covers so that we could seal the mattresses up after they had been sprayed. He recommended this brand specifically.
Getting the cover on was a huge pain, but what can a person expect when trying to wrestle a queen-sized mattress into a cover? However, once the mattress was settled into the cover, the mattress cover zipped up quickly & easily. It also comes with little mini-zip ties - you use the ties to latch the zipper pull onto a loop in the cover, so that it's impossible for the cover to even become unzipped.
I've been using this cover for about 6 months now. It hasn't torn or frayed - and my mattress sits on steel beams (I don't have a box spring) - though I did make sure those beams didn't have any sharp edges to snag the cover on.
I treat the mattress carefully when I change the sheets, but overall, I sleep on the bed nightly, I don't do anything extraordinary to take care of it, and it's still working great - no bedbugs for over 6 months now!"
-Eugina A. Van Bremen, New York City
Great waterproof mattress protector!! (Premium Mattress Protector)
"We bought this product when we purchased a new mattress at the recommendation of the sales person. We used it for a couple years and didn't notice how great it was until we had a child. With a newborn in our bed we had many milk and leaking diaper accidents. The mattress protector was wonderful and kept our mattress dry. When my son moved to his own bed we decided to get one for his bed as well. It doesn't make any noise like a lot of the plastic covers do and I don't feel hot from it. It is very thin, but keeps our mattress clean and dry. I highly recommend this product."
-S. Ciftci, Portland, OR
Great product!
"Finally, a product that does what it's supposed to! I purchased a new mattress and wanted to protect it from the occasional accident my dog has when she's not feeling well. She recently had a urinary tract infection and had 3 accidents on my bed in 1 day!!! I was pleasantly surprised to see that not only was the urine fully absorbed but the waterproof backing of the mattress pad showed absolutely no sign of being penetrated by the urine. Tossed it in the laundry and came out like brand new! It's called a mattress pad but in reality, it's just a little thicker than a sheet and doesn't make plastic-y crinkle sounds like a vinyl sheet. Both my mattress and my dog are as good as new and I'm thankful another mattress hasn't been ruined. THIS IS A GREAT PRODUCT AND WORTH THE INVESTMENT!"
-"Addicted To Music", New York City
Highly recommended. (Premium Mattress Protector)
"We have owned a Protect-A-Bed Premium Mattress Protector since we purchased our new mattress when we got married, two and a half years ago. At first we were a little put off by the price, seeing as how we could have purchased another brand for at least half the price. The retailer ensured us that it was the best mattress protector on the market; and we have come to agree with him. First of all, we didn't want a bulky mattress protector that would change the feel of the very nice mattress we had just purchased. And we didn't want something that would make us sweat, or would crinkle, or any of the other annoying characteristics generally associated with mattress protectors.
We did, however, want something that would protect our mattress, so that it would remain under warranty. We also wanted something that, in turn, would protect us.
We have found ourselves to be so pleased with the Protect-A-Bed Premium mattress protectors that we have purchased one for every bed in our house.
The top cover is a small weave cotton terry cloth fabric, which is backed by a polyurethane film, which is waterproof and breathable and acts as a protective barrier (for both you and the mattress). The sides are a stretchable cotton that fits the mattress snuggly, allowing no indication that it is there once the sheet is on the bed.
If you're looking for a mattress "pad". This product is not for you. If you're looking for "undetectable" peace of mind. This product is for you."
- K. Dryden
Pillows are worth protecting and this product does just that (Allerzip Pillow Protector)
"I have been investing in better and better pillows for quite a few years now and I have learned that they are as important as your mattress. When a friend discovered that she had a bedbug problem she was embarassed, but hey, it happens. I have been using Protect-A-Bed covers on my pillows for over 5 years and have grown to trust them. It was important for her to have a set of pillow protectors as bugs and dust mites like to hide in pillows. The zippers on these covers are especially made to prevent the escape of begbugs (I HATE those litte guys!).
If you are spending fifty to a hundred dollars on your pillows (and a lot of people do) you might want to think about protecting them. It's not only the bugs that it protects you from, it also keeps your pillow clean and safe from dirt and grime. Well worth the cost."
-Timothy B. Riley, San Antonio, TX
Great pillow protector (Premium Pillow Protector)
"Works well and does not make noise when slept on. My husband and son leave greasy places on their pillowcases and then it transfers to the Temper pillows they own. Since using these on their new pillows they have remained completely clean and there is no greasy stain left on them. They let air through but keep the oil on the case itself. They wash well! I always dry in fresh air not drier."
-Marsha Ann Owens, TX
Did the Trick! (Bed Bug Proof Box Spring Encasement)
"I was battling those nasty little varmits for several months before I purchased this encasement. The key is capture them at the source. I tried diomatacious earth which is ok for border areas such as wall corners, bedpost,etc..but the key was the boxspring. This is where they were laying the eggs and migrating. It is important to ensure all sharp corners and screws are covered with tape or pounded down flat with hammer. Once the rails and corners are safeguarded, gently cover the boxspring and zip completely around. Carefully lay down on rails. Be sure to vaccum the whole area around the bed. Use Diomatacious earth around borders and bottom of bedpost. Its been three weeks and no sign of bugs! I can now sleep soundly. One note: The illustrations in the pamphlet show the mattress as opposed to box spring - Use this product on the boxspring."
-Stephen Vollmer
Does its job great! (Premium Mattress Protector)
"i got this product when i bought my new mattress. i have never used such a product, but i thought that i'd try it since the sales guy said it'd help protect the warranty on the mattress too. so i gave it a shot.
i've used it for 3 years now, and it's been great. it's not a "pad" but a protective covering. it is very breathable and the mattress stays coool, which is important to me. it's quiet, and fits my tall mattress nicely.
somehow, i managed to tear the backside a little bit, and so i called the number for the 10 year warranty. "Dennis" on the other end of the phone was extremely polite and helpful, and is throwing in a replacement for me tomorrow!
i'm definitely glad that i have this since i've managed to spill stuff on my bed and it's protected it great. my mattress still looks new.
the product is great, and their willingness to honor their commitment promtly and without hassle has definitely made me consider their other products in the future, and more importantly to write a positive review here to endorse their product to other people."
-E.W., Arlington, VA
"I recently had the chance to try the Protect-a-Bed mattress protector and pillow cover. I cannot begin to tell you how much I love the mattress cover or pillow cover. The pillow cover helps me breath a little easier when I sleep- which I didn't know could happen. Also, I have allergies, so the mattress protector helps cut down on the sneezing and helps relieve my itchy eyes I get in the morning. Both are extremely comfortable to sleep on and I would definitely think about buying more!!"
-Amanda, "Confetti Dreams" Blog
"Our Protect-A-Bed premium mattress protector works wonderful for us. We have a toddler and a Chihuahua that sleep with us so you can only imagine the spills and spots that we deal with, but with the mattress protector our mattress has suffered no long term damage. It is water resistant so the fluids do not soak in and as an added bonus it helps with my husbands allergies."
-Paige, "The Nurse Mommy" Blog
Lots of pee, absolutely no leaks! (Premium Mattress Protector)
"We are currently practicing EC with our second child. Our daughter also learned to potty this way. We bought this mattress protector with our king size bed over 2 and a half years ago and it is still working! Somebody pees on or spills pee on our bed at least twice a month and never a drop has hit our mattress. I love this product! I bought a cheaper version (to put on while the protect-a-bed is being washed)about six months ago and it already has holes in the polyurethane. I highly recommend paying the extra $$ to get Protect-a-Bed!
The added bonus is that it doesn't change the feel of our mattress, or make the mattress less safe for co-sleeping. Padded mattress tops can be too soft for young babies to sleep on."
-K. Wahl, TX
Awesome mattress protection (Premium Mattress Protector)
"We have this on our king bed as well on the queen guest bed, also have the pillow protectors, which are very nice for quests to know they are not putting their heads directly against the pillow where countless others have done the same. wash up great and have never shrunk. the best to protect your pillows and mattress from night sweats. (not caused by the cover, only menopause) no crinkly sounds or plastic feeling under linens."
-Sunny Dog "Leslie", Billings MT
"Shannan,
I just wanted to thank you guys for the Mattress Protector that you allowed me to review for my blog "A Little of This and a Little of That". I received it the beginning of June and my night sweats are gone. I had horrible night sweats from going through Chemo last year and they were miserable. Since we put the Mattress Protector on, I don't have them anymore. Also I used to wake in the morning with terrible sinus headaches, they are gone too. This Protector is a miracle worker. So thanks again."
A very satisfied customer,
Ellie
"Just a note to let you know how pleased I am with your mattress pad. Our dog vomited on the bed recently. I pulled off the quilt and sheets and saw that the stain had spread to the mattress pad. I was so afraid that our new mattress was stained as well, but it wasn't! Nohting got through. When I washed the mattress pad, the stain came out easily and thoroughly. I have recommended your mattress pads to friends and family. I love that your product does what it claims to do! Thank you."
-Linda Kammerer